Wu-Tang Clan Were More Experimental, But Less Hungry On "The W" | Review
Released: November 21, 2000
The W was released three years after their previous album, the double CD Wu-Tang Forever, this album takes a very different approach. It's both shorter (with 13 tracks versus 28 tracks) and has a more organic and simpler, sample oriented sound. Production wise it's more akin to their debut, although it's definitely updated at the same time. Like previous releases, it was highly anticipated and sold to platinum in the US within a month, but failed to sell to multi-platinum status. Although it contains several hit singles, it doesn't seem to have the same impact as their first two albums.
The Best Tracks
The W begins with some Kung-Fu movie dialogue before a really cool a beat comes in for "Chamber Music" with Raekwon and GZA each dropping excellent verses which suit the beat perfectly.
The soulful wailings on "Hollow Bones" are tailor-made for Raekwon, Inspectah Deck, and Ghostface, who all rap with considerable skill over the sparse beat. In fact, the track doesn't even feature a drum track, just instruments, which is quite unique but works really well.
"Protect Ya Neck (The Jump Off)", like the iconic "Protect Ya Neck" and "Triumph" tracks, features all the clan members on one track. It's all over in an incredible 3:57 with each member blazing through their verses over the mid-tempo beat. Although a good track, honestly it doesn't have the intensity or epicness of those two other tracks.
"I Can't Go to Sleep" is one the most interesting tracks on the album. It's incredibly musical with the old soul instrumentation from the 70s and even goes more hard at times. On the chorus, we have soul legend, Isaac Hayes, who many will recognize from South Park (as Chef) and Shaft's theme. Lyrically the song is incredibly emotional with RZA and Ghostface delivering a style similar to "Tearz" from their debut.
"Do You Really (Thang Thang) sounds more current than many of the other tracks and has a real "banger" feel. In the words of DJ Kayslay on the intro
"Yo, this is a Wu-Banger, two thousand and one noise maker/ Off the hook guerilla anthem"
Although RZA usually does a great job of choosing the MCs who drop the hottest verses, this track could really benefit from some more star power (from the Wu).
"The Monumental" sees a visit from Busta Rhymes who coins the title during his introduction. He then drops a verse before the beat switches up and Raekwon comes in with a verse (the beat comes back halfway) then it's GZA turn to drop some science.
The highlight on the album is "Gravel Pit" which has turned out to be one of their most popular songs today. Although not as popular as there previous singles, it has had a lasting appeal, likely due to its danceability. It's unique because it has the feel of a dance track, yet it has a distinguishable Wu-Tang sound. Its feel is timeless, yet futuristic.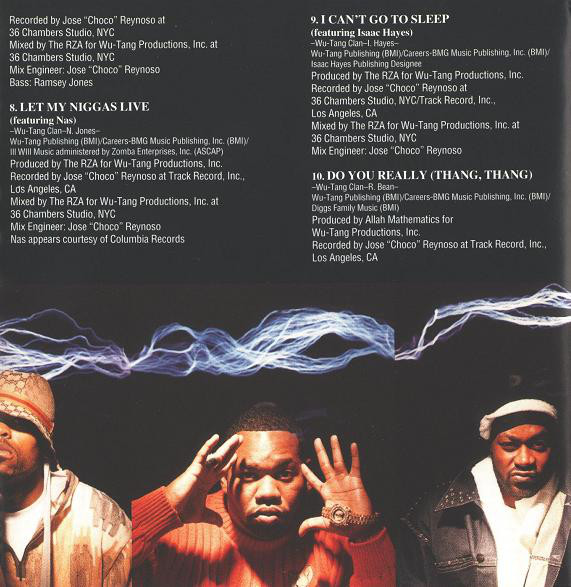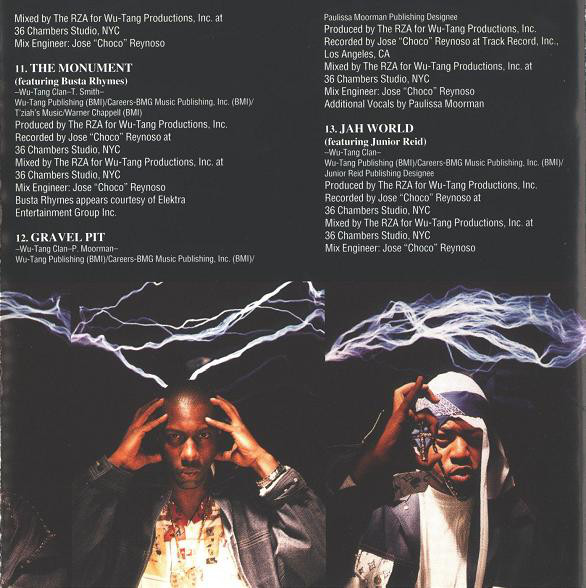 Overall The W is not as immediate as the 36 Chambers, and is not as lyrical as Forever, but possesses a quality of its own. Maybe it's not the album you would recommend to a newcomer of the Wu, but it's an album you can get into once you've devoured their other albums. It's very solid, and with only thirteen tracks it doesn't contain any duds. And although short, The W manages to offer considerable experimentation musically. In some ways, it sounds like 36 Chambers made by a group of less hungry, but more seasoned veterans.
"Stop all this crying and be a man"