The Fat Boys Go To Jail For Various Food Related Crimes (Album Review)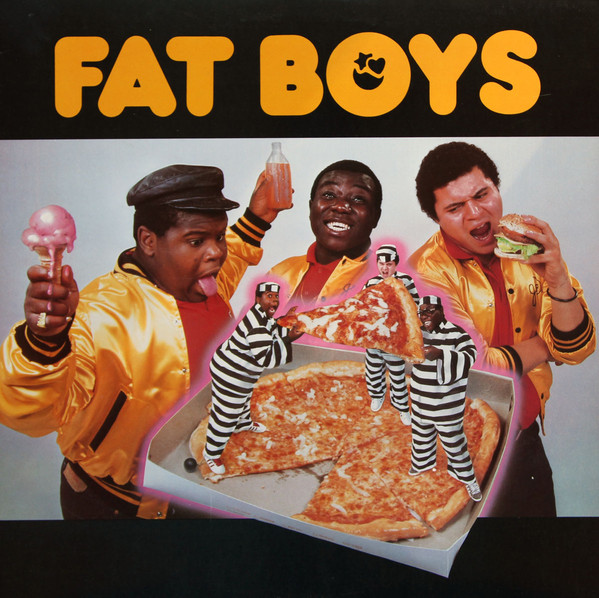 How Classic? 4.5 out of 6
The Fat Boys, then known as The Disco Three, were discovered at a 1983 talent show at Radio City Music Hall where the first prize was a recording contract. They won the competition with the song "Stick 'Em", a song which musically consists primarily of Buffy's famous beatboxing. After winning the record contract their manager was looking for a way to promote the group and he managed to get them an appearance in a commercial for the newly founded Swiss watch company Swatch. The commercial appeared on MTV which wasn't playing any hip-hop at the time so their manager was happy to have them featured despite receiving no pay for their appearance. 
The Disco Three changed their name after their manager suggested that they change their name to the Fat Boys after he received an inflated food bill at the hotel while on tour. With the double meaning of fat as in "phat", and fat as in they were actual fat boys, so needless to say the name stuck. 
The Fat Boys were proteges of Kurtis Blow who produced this debut record which begins with the dope and hilarious "Jail House Rap" where they rap about going to jail for various food-related crimes. While on "Can You Feel It?" and "Fat Boys" they show us some more of their party rockin' skills. And on "Don't You Dog Me" they demand respect from their girlfriends and other fellow rappers. 
At the time of its release on May 29, 1984, they were either considered a gimmicky and silly novelty act or they were looked at as some of the best and most popular rappers around, all depending on who you asked. At the end of the day, they have a place in hip-hop history as some of the best the "Second Generation" of hip-hop had to offer along with Whodini, LL Cool J, and Run-DMC.
How Classic Is The Fat Boys' Debut?