DJ Jazzy Jeff & The Fresh Prince Create An Organic Sound On And In This Corner... | Review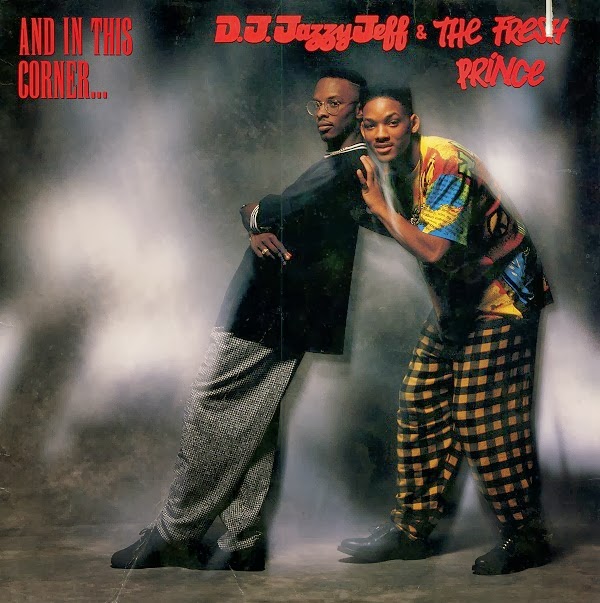 Released: October 31, 1989
And In This Corner... the third album by DJ Jazzy Jeff & The Fresh Prince. It was released on October 31, 1989, about one month before Will Smith was contacted by NBC with the offer to create a sitcom based on a fictionalized version of himself. And In This Corner... is a very solid album, with no standout tracks, but that is due to there not being any really weak tracks either. The production is very consistent throughout and the tracklist as a whole sounds cohesive when listening to the album, with the duo taking influences from jazz and funk, creating a very organic sound that utilizes trumpets, saxes, and flutes. On the lyrical side, the Fresh Prince creates even more humorous story-lines than ever before and still manages to praise both his own skills, their dance crew, and his DJ on several tracks.
The first single off the album was "I Think I Can Beat Mike Tyson" which is notable for winning the very first Grammy Award for best rap performance, which led to mixed feelings in the hip-hop community. When the song came out, Mike Tyson was the most feared boxer on the planet, with a record of 37-0, with many of his wins coming from knockouts, and many of these being in the first round. Mike Tyson and boxing promoter Don King make appearances in the music video. 
The second single was "Jazzy's Groove" which is a melodic and uptempo tribute to Jazzy Jeff's formidable turntable skills which are on full display on this ditty. Another track on the album "Jeff Waz On The Beat Box" is a recognition of Jeff's production wizardry with Will comparing him to Marley Marl, Teddy Riley and Hurby Love Bug who produced Salt-N-Pepa and Kid N' Play. 
There are many story-telling tracks on the album, for example, the opening track, "Then She Bit Me", which is a surreal sci-fi track, and "Everything That Glitters (Ain't Always Gold) which is about a cruise that doesn't quite turn out as expected. Then we have "The Girlie Had A Mustache" which is an uptempo and danceable track about various situations where the "girls" he encounters are actually guys in disguise. The last story is "Who Stole My Car?" where the Fresh Prince tries to track down his car after it's been stolen, which includes talking to the police, and high-speed chase whilst talking to the car-thief on the car phone. 
While most of the album consists of story-telling tracks, there are other tracks that vary from going to hip-hop church on "The Reverend", talking about the group's dance crew on "Too Damn Hype", and straight-up battle rhymes on "Numero Uno" telling other MC's who the best rapper is. The Fresh Prince really kicks a lot interesting and funky flows which are quite unique and show that WIll Smith is not only a underrated MC, but also an innovator in the genre.
And In This Corner... ended up selling less than half of their previous offering, He's The DJ, I'm The Rapper, only selling to gold status versus 2x platinum. As previously mentioned, Will Smith was approached by NBC about a possible sitcom shortly after the album's release and it's unsure wether this had a negative effect album sales due to a lack of touring in support of the album, but it's likely that it was a lack of a hit single which caused the low sales numbers with the biggest single on And In This Corner... being "I Think I Can Beat Mike Tyson" which peaked at number 23, while He's The DJ, I'm The Rapper had two top 10 singles with "Nightmare On My Street" and "Parents Just Don't Understand". Another factor could have been that their initial crossover audience had begun to feel that they had become too accessible, while other non-crossover rap acts started to gain larger street followings, also at the same time new faces such as Tone Loc and Young MC began to compete with them for radio play. On their next album, Homebase, they would go for a more danceable sound, but also more of a standard hip-hop approach with their classic single "Summertime".
How Classic Is And In This Corner...?