Stetsasonic Are In Full Gear On Their Sophomore Album | Review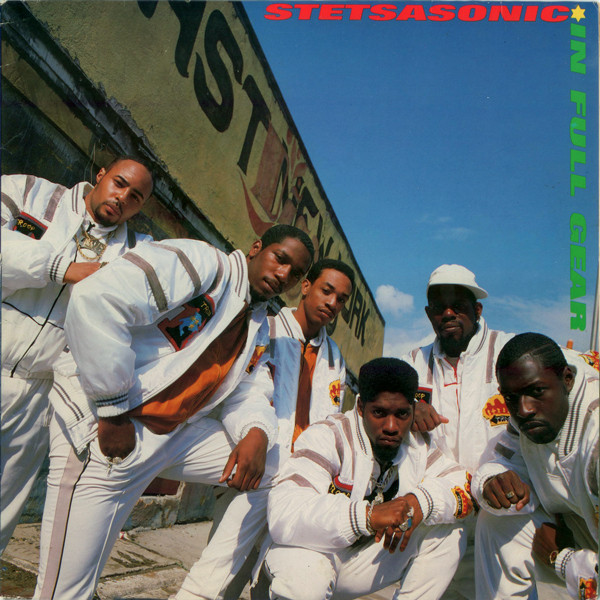 In Full Gear (June 21, 1988) is the second album by New York group Stetsasonic, who are regarded as hip-hop's first live band. In Full Gear was more critically acclaimed than it's predecessor On Fire, although that album contained it's share of hot songs also. The most famous member of Stetsasonic is DJ Prince Paul who produced the majority of the songs on In Full Gear. Since leaving Stetsasonic, Prince Paul is predominantly known for his work with De La Soul. 
In Full Gear kicks of with the title track which is has a funky guitar intro that segways into an uptempo number with a funky bassline. Then track two comes in with "DBC Let The Music Play" which is a nice mix of dope samples and solid rhyming. 
On "Step Troop '88" Wise uses his "Human Turntable" technique of beatboxing to create a dope listening experience. From here the album rolls along with many solid tracks until they drop another hit song titled "Sally" which is full of funky samples including a dope vocal sample for the chorus. 
Prince Paul's talents and forward thinking are evident on the previous track and on"Talkin' All That Jazz" they address the critics of the sampling way of making music. The track is an unusally smooth affair for 1988 standards which combines melody and high energy rhythm in a way that wouldn't become the norm until Pete Rock would become one hip-hop's best producers during the early 90s.
In Full Gear is at times ahead of it's time, thanks to their talented producer, DJ Prince Paul. The lyrics are solid and fairly varied, and this is a very solid album from a somewhat overlooked hip-hop group from the 1980s.
How Classic Is Stetsasonic's In Full Gear?
More Classic Hip-Hop Reviews | 1988-1990