MC Lyte Shows That She's A Classy Lady With Self Respect On Lyte As Rock | Review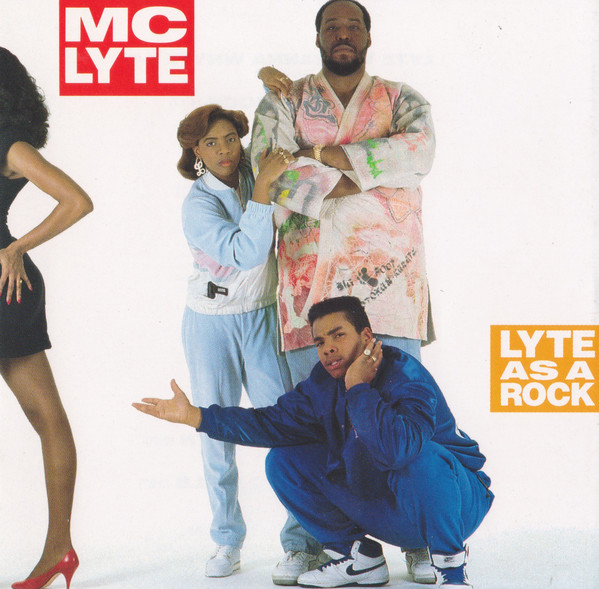 Released: September 13, 1988
MC Lyte released her first album, Lyte As A Rock, in the middle of hip-hop's golden age on September 13, 1988. If you don't already know who MC Lyte is when looking at the cover you might think it's an album by a male rapper. Who is MC Lyte? Is it the guy on the bottom ( her producer) or the big guy on the top (her bodyguard)? No, actually it's the petite woman on the left in the baby blue tracksuit! Did she do this to get more sales, or because she likes being protected by a strong man? For whatever reason, she employed the same strategy on her second album also.
Lyte As A Rock was one of The Source's 100 Best Rap Albums, here's what she told them about the recording, "I can remember when my friend and label mate Eric and I first walked into the studio at First Priority where Milk & Giz were working on tracks. I can recall Milk making the track for "I Cram to Understand U" right before my eyes on that tiny 4 track Tascam. The greatest memories were made with Lyte As A Rock! It was a great experience!"
And indeed it is a good album and even more so because it's an outstanding female rap album. In the title track, she portrays a high level of self-respect in her lyrics. And in the video for "Lyte As A Rock" she appears a black leader, a queen during Ancient Egypt, a madam gangsta in the Harlem Renaissance, and as a Black Panther head during the Black Power era. 
One of the best songs on the album is "10% Dis" where she disses Antoinette who had used a beat on "I Got An Attitude", similar to Audio Two's "Top Billin". So Audio Two was also MC Lyte's producer so that's why MC Lyte had to get involved. Audio Two didn't want to diss Antoinette themselves because they didn't want to battle a woman, so they had MC Lyte do it! 
"Paper Thin" is another very strong track on the album with self-empowering lyrics and a very cool beat. Lyte's lyrics show that she is a confident woman who doesn't sleep with a man just to get him. Neither does she try to play a man out for money or clothes. MC Lyte is a woman of self-respect and class! And a dope rapper to boot!