Eazy-E Recorded His Vocals In The Dark For Eazy-Duz-It | Album Review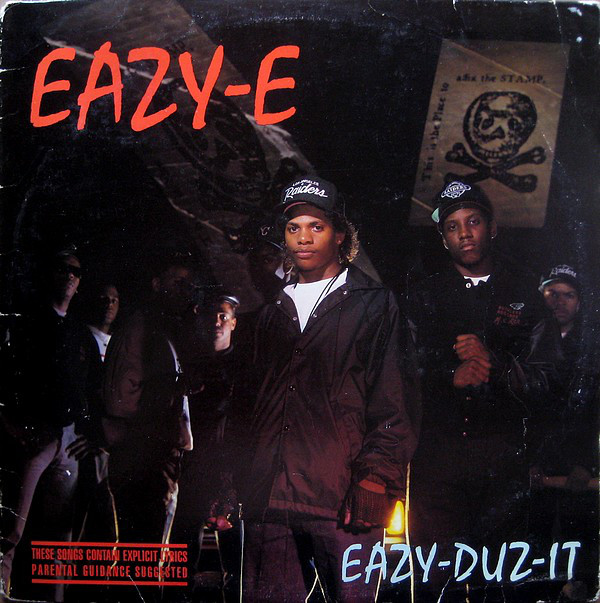 Released: September 13, 1988
Eazy-Duz-It was released on September 13, 1988, just over a month after the landmark gangsta rap album Straight Outta Compton by N.W.A. As many will know, Eazy-E was a member of N.W.A. and this album was the first and only solo album by any group member (before the breakup in 1991). 
Listening to the album it's hard to imagine that Eazy had to be coached line-for-line while recording his raps the previous year (1987). By 1988 he was flowing nicely and confidently over the tracks on SOC and now on this album. 
The album features MC Ren on three tracks (and Dr. Dre on one) so it's definitely Eazy-E who is holding down the vocals on this LP. However he doesn't contribute any lyrics (some sources say he contributed somewhat to "Boyz-N-Tha-Hood") and it's MC Ren (seven songs), Ice-Cube (three tracks) and The D.O.C. who handle the lyrics. 
There are basically only two standout tracks on the album, one being the title track and the other being the old N.W.A. and the Posse single ''Boyz-N-Tha-Hood'' from 1987. The slight difference in the sound (of the remixed track) is a deeper bass, a crisper production, and possibly a slightly slower tempo. The lyrics are written by Ice-Cube and follow a story-telling formula which was essential to Eazy's early N.W.A. Style. 
The second highlight on the album is the title track ''Eazy-Duz-It'' which boasts a highly varied song structure which never gets boring. It's full of different samples, alternative beats, short musical interludes and dramatic (and comical) sound effects. Although MC Ren's lyrics on this track are not quite up to par with Ice-Cube's ''Boyz..'' lyrics, the production makes up for it. 
Due to being released almost simultaneously with Straight Outta Compton one can view Eazy-Duz-It as a companion album made for promotional purposes. This album certainly benefited saleswise (double platinum) from the close release date to SOC and as a stand-alone album, it's a solid album (but not outstanding).
Some notable facts are that DJ Yella played live drums on ''2 Hard Mutha's'' while ''We Want Eazy'' is a Bootsy Collins (from Parliament/Funkadelic) cover. Also, Eazy-E was what DJ Yella called a ''ghost rapper'' (the opposite of a ''ghost writer'') because he always had to do his vocals in the dark.
How Classic Is Eazy-E's Eazy-Duz-It?